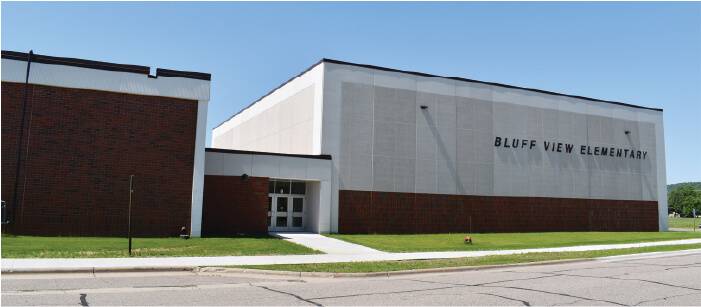 Bluff View Elementary School recently completed an addition to an existing school in Lake City, MN. The addition included a new gymnasium along with many other facility upgrades. This new addition will support the faculty and provide the students with a school ready for future growth.
Molin Concrete Products worked with Kraus Anderson (Rochester), MLA Architects, and LS Engineers throughout the project budgeting, and design development and was selected after the bid to provide 17,000 square feet of architectural precast concrete wall panels, 2,800 square feet of structural precast concrete wall panels, and 1,100 square feet of 8" hollow core plank for the project.
The architectural precast concrete wall panels incorporate a light color with an etched finish to closely resemble the existing school accent pieces.
An abrasive blast at the upper portion of the panels and cast in thin brick at the bottom match the existing features and will tie the addition to the school.
Molin provided completed facility tours to the architect and sample requests to assist the owner and design team in selecting the final building aesthetics. Molin prepared shop drawings and engineering services while working with the design team to finalize construction drawings in order to meet the project's required construction schedule.
Throughout the process, Molin's project manager and field superintendent coordinated site access, crane and trucking logistics, safety and installation plans with Kraus Anderson's project managers and job superintendents to make sure installation was completed safely and on time.