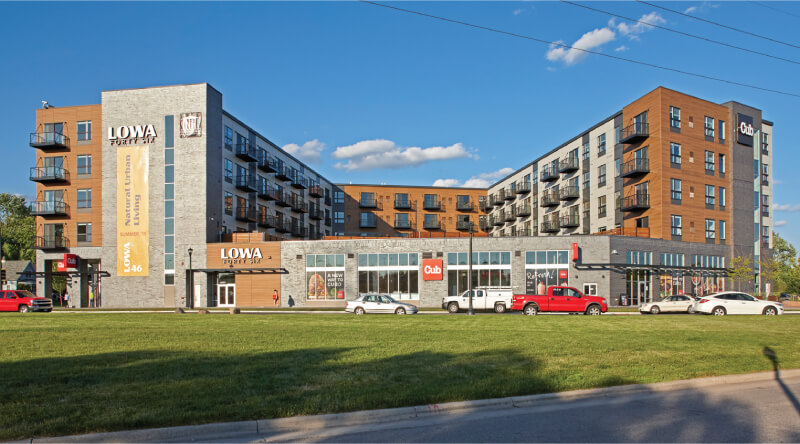 In October of 2017, Molin Concrete Products was invited to join Oppidan, Anderson Companies, Pope Architects, and BKBM Engineers as part of the development team for their project, The Capp which is a precast concrete multi-family housing/mixed use project.
The Capp is located in Minneapolis next to the Blue Line light rail station in the Longfellow and Hiawatha neighborhoods. The structure includes a 5-story 148-unit residential building with 3,000 square feet of small shop retail, a 46,127 square foot Cub Foods grocery store, heated underground parking, and a large public plaza.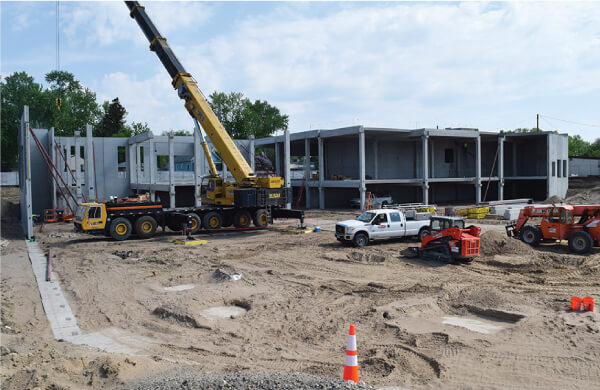 Molin's full-service design build team provided value engineering, and budgetary assistance at multiple stages of the project. Early involvement in the schematic and design development stages provided efficient layout recommendations for the precast components and related structural connections.
Molin's scope of work included designing, producing, and installation of: 2,457 lineal feet (81 pcs) of precast columns, 3,743 lineal feet (158 pcs) of prestressed beams, 99,685 square feet of 8", 12" and 16" Hollow Core and solid slabs, and 55,200 square feet of insulated and non-insulated architectural precast wall panels with cast-in thin brick veneer.