Shaping

F

uture

P

recast

C

oncrete

E

ngineers
At Molin Concrete, we believe that when you design with and utilize precast concrete products, you are making an investment in the future. Durability, safety, and sustainability are just a few of the many benefits precast products offer.  
Because of our strong belief in the value of precast concrete, we are committed to raising its profile and helping educate architects, engineers, and builders about what it can achieve. Our dedication to this led us to contribute to precast concrete education through a partnership with the University of Minnesota-Duluth (UMD). 
Certificate in resilient concrete available for UMD students
Students pursuing an undergraduate degree in civil engineering can obtain certification via the Resilient Precast in the Engineering Curriculum (RPEC) Program. The program combines traditional concrete education and engineering skills with cutting-edge knowledge related to resilience and business management. 
The program includes five courses, which are taken during a student's junior and senior years. Students begin with an introductory course on reinforced concrete and can choose to build their knowledge through participation in the Big Beam competition, organized by the Precast/Prestressed Concrete Institute. Other courses provide insight into project organization and the management side of precast concrete and resiliency. The final piece of the certificate program is a senior design capstone project, where students use the information acquired throughout their studies and integrate it into their final precast design project.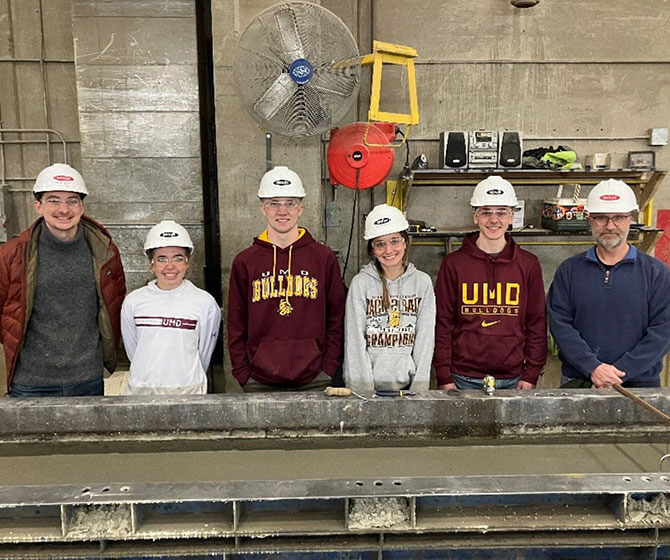 Caption: Alex Wolf (far left) and Paul Kourajian (far right) with UMD students who participated in the PCI Big Beam Competition in 2023. 
This program helps students understand the importance of precast concrete in design projects and challenges them to push the envelope of what possible. 
Enhancing learning opportunities for future engineers 
Molin's relationship with UMD students extends beyond the precast certificate. Molin Preconstruction Engineer and graduate of UMD Alex Wolf explains. 
For many years, Molin has had an integral role in facilitating effective learning opportunities for students at UMD. We provide tours of our production facilities and job sites to help students make connections between theory and practice. In addition to the plant and jobsite tours, Molin permanently installed a scaled precast structure in the teaching lab as a demonstration tool.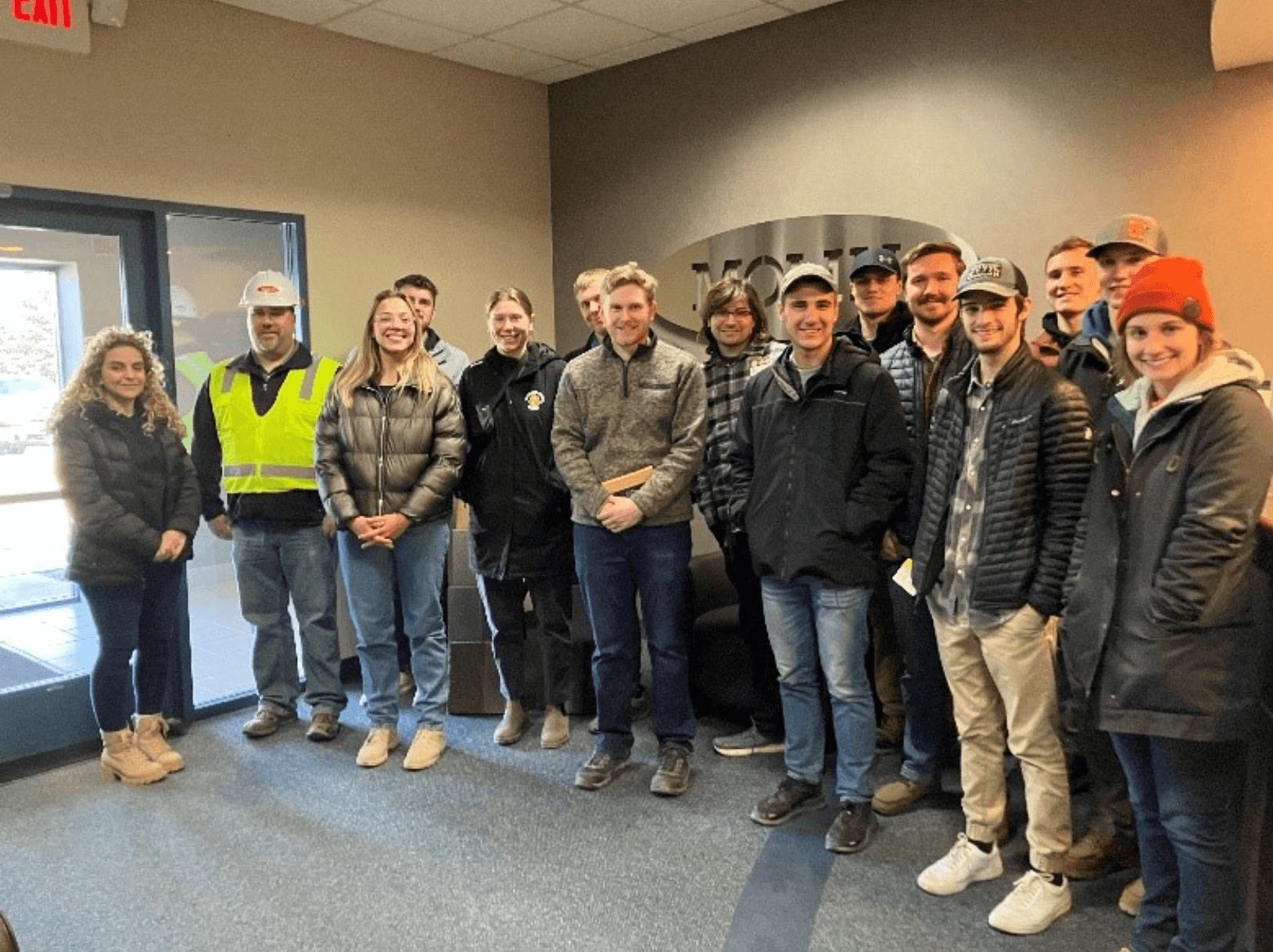 Caption: A group of civil engineering students from UMD tour Molin Concrete in spring 2023. 
Wolf's own interest in precast structures grew when he took a series of classes in the structural curriculum taught by Dr. Ben Dymond.  "A civil engineering degree is very broad," he explained. "Structural engineering is a subset I specialized in. Towards the end of my college career, I knew I wanted to work in structures." 
Wolf believes Molin's presence on campus and precast concrete education also impacted his career trajectory. Paul Kourajian, P.E., Director of Research and Development at Molin Concrete and a 2023 PCI Fellow, was on campus helping conduct research. Hearing Kourajian speak helped Wolf realize he could have a future in working for a manufacturing company doing precast, prestressed concrete design.  
After graduation, Wolf interviewed with Molin Concrete. "The idea of working for a company that had been around for 120 years and had a strong internal engineering group that supported all the rest of the parts of the company?" Wolf said. "It was very appealing from the start."  
In spring 2022, Wolf passed the Principles and Practice of Engineering (PE) exam and became a licensed engineer. Now over five years into his career at Molin, Wolf is happy with his role. "I find it incredibly rewarding," he said. 
Now a precast design engineer, UMD graduate continues to share his knowledge 
Wolf appreciates the role Molin played in his own education. "When I was at school, I went on a tour myself and Paul was on site at the university a couple of times," he said. "Any interaction you can have with an engineer that's in the workforce is beneficial." Wolf has come full circle as his present job allows him to meet and work alongside students currently enrolled at UMD. He hopes that his career success inspires them. "They can see where their degree can get them in a few short years if they land at the right place and do the work," he said. 
One thing that hasn't changed is how Alex Wolf views precast concrete: "The beauty of precast is that it's adaptable to so many different job types and job requirements," Wolf said. "You're confident as a designer working with it." While Wolf admires the aesthetic versatility of precast products, he also values their resilience and strength. "Structurally it has a ton of advantages that are nice to have in your pocket as an engineer," he said.